12 Week Health Transformation Package
Is your health condition ruining your body?
If you're ill, your condition is managed by a medical doctor, you are recommended to protect yourself taking regularly medicinal drugs, and you starting to feel anxious, depressed and many times like you shouldn't be exercising.
But how does this change if you're not getting better?
If you stop exercising long term, you could end up with worse problems down the line.
So what can you do if your body isn't up to the task?
Through working with doctors and healthcare professionals, I've dedicated years of my life, as an elite – rehabilitation personal trainer and London nutritionist, answering this question to better serve my clients.
Having a health issue should not condemn you to poor fitness and a regressive lifestyle.
In many cases, my one-to-one personal training and nutritional advice has helped clients' rehabilitation. I've worked with people suffering from and recovering from health problems ranging from chronic joint problems to anything from depression, diabetes, cancer and heart disease.
Exercise plays a crucial role in disease and sports injury rehabilitation. It improves blood flow, releases chemicals to improve mood and cognitive function, speeds up metabolism and keeps weight in a healthy range enabling your body to function properly.
In fact, a customised exercise programme with me on your side and doctor supervision can speed up your recovery.
Therefore, I've developed a 12 week programme – much like Complete Body Transformation – to improve and restore your health regardless of your medical issues.
We'll work with your doctor to pinpoint the best custumised exercises, intensities and approach to physical wellness to build your body and your health back to their peak.
It means even if you have complex medical needs, you can still benefit from life-changing 12 weeks weight loss and body transformation to look good, stay healthy and avoid future injury and disease.
Is this programme for you?
The 12 weeks Health Transformation programme is designed for individuals (with a doctor's clearance) who suffer from:
Diabetes type 2
Arthritis
Cardiovascular disease
Osteoporosis
Anxiety, Depression, Stress
Stroke (rehabilitation after stroke)
Heart Attacks (rehabilitation after heart attack)
Multiple sclerosis
Polycystic ovarian syndrome
Cancer (pre-treatment preparation/post-treatment rehabilitation)
Chronic back pain
Rehabilitations after knee injuries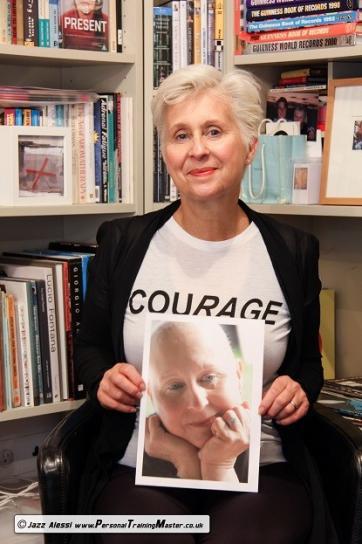 Beverly Sage came to me after 18 months of chemotherapy after suffering grade 3 stage 2 breast cancer.
This is what she had to say about my rehabilitation personal training:
"When I started personal training with Jazz, I was so weak I couldn't even get out the bath. My knees didn't work, I was in a really bad state physically. What Jazz does is prepare a personal training programme, for you as an individual. I'm about two stone lighter now than I was when we first met. I am very pleased to be feeling so much stronger physically.
This empowering sense of wellness has given me a renewed zest for life and I am already feeling years younger. Training with Jazz has given me a new-found energy and has built me up to feel confident in my body again."
Are you working or living in London?
If you live in central London – including the areas of Chelsea, Bank, Baker Street, Mayfair, Bond Street, Canary Wharf, Covent Garden, Hampstead, Harley street, Holborn, Kensington, London Bridge, Marylebone, Victoria and Westminster – and suffer from any of the above conditions, I will travel, training and coaching you at your location of choice.
What does this unique programme include?
This intensive 12 Week programme consists of 48 one-to-one personal training, nutrition and coaching sessions with a personal trainer rehabilitation specialist – fully tailored to your needs.
After an initial meeting, we'll draw up a comprehensive schedule to deliver the complete programme. The sessions, delivered at your preferred London location, combine:
Multidisciplinary sports and movements methods: 2nd generation Pilates, Yoga, stretching, bespoke movements and exercise, gymnastics and martial arts
Training techniques: Cross training, body weight conditioning, body reshaping exercises and postural corrections
Injury prevention (and injury rehabilitation if needed)
Nutrition: Advanced lifestyle and nutrition analysis, comprehensive nutritional consultation and plan, customised shopping list and recipes, gentle body detox including juice detox, cellular detoxification, supplementation (if required), healthy weight gain, fast and safe weight loss and BMI management
When you are suffering from an aggressive condition and if you are taking the 12 weeks Health Transformation programme (below), these additional items could also be included:
Clinical biochemistry consultation and advanced blood test interpretations
Collaboration with your doctor and doctors specialised in your disease to define how best to maintain and build your fitness with your condition
For every booked programme, you'll benefit from these complementary services:
A 4 week follow-up programme
2 new focused workouts
7-21 days food monitoring programme
180 minutes direct Skype/phone line support, spread over 30 days.
What makes the 12 week Health and body Transformation Programme unique?
The Health 12 week Body Transformation Programme is built around you. Your body and your health issue is different from anyone else. That's why we'll take time to gently learn your limits by creating a specialised nutrition plan and a bespoke exercise rehabilitation strategy to start you on the path to recovery.
Here are just some of the benefits a specialised programme can provide:
Transform your health, mental health and body shape
Manage diabetes type 2
Decrease risks of vascular conditions
Improve endurance and flexibility
Correct your posture and improve range of motion
Manage or reduce the risk of age-related health conditions (spinal injury rehabilitation)
Boost your immune system and energy level
Cardiac rehabilitation and pulmonary rehabilitation
Relieve pains and lower inflammations
Prevent falls, fractures and future injuries
Combat depression, anxiety and stress
Recover from previous sports injuries
Strengthen weakened parts of the body after stroke and improve gait and balance (stroke rehabilitation)
Avoid surgery in some cases
What kind of rehabilitation do you require?
Type 2 diabetes
Exercise is one of the most effective methods of type 2 diabetes management. When you exercise and eat correctly, your muscles become more sensitive to insulin and absorb more glucose from the blood.
Other benefits you can expect include increased nitric oxide and dilated blood vessels, better blood pressure control and weight loss/management, all of which are crucial for individuals diagnosed with diabetes.
There's a catch, though. You've got to know your body – how far to push it and what to eat to avoid sugar imbalances. That's where I can help.
ACL, Meniscus, MCL All knee injury rehabilitation
If you have sustained a Meniscus injury or an ACL/PCL/MCL injury and have doctor's clearance, I will design an ideal knee injury rehabilitation plan to rebalance your body, activate dormant muscles and switch off the overactive ones, to relieve the pain, strengthen muscles, and improve your flexibility, mobility and balance.
Cardiovascular health
Exercise makes the heart stronger and enables it to pump more blood through the body. It also improves your cholesterol levels, reduces inflammation in the arteries, manages your weight, and keeps your blood vessels flexible and open.
If you have suffered a heart attack or have been diagnosed with a cardiovascular disease, with your physician's go-ahead I can design a health transformation programme for cardiac rehabilitation and to reverse heart disease risk factors.
Osteoporosis
With your doctor's clearance, I can create an ideal exercise and nutrition programme to provide you with optimum nutritional intakes, maximise calcium and other nutrient absorption to strengthen your bones and reduce the risk of fractures.
As a London nutritionist and personal trainer I will work with you to create a lasting plan which will change your life.
Anxiety, stress, depression
Depression is a clinical illness which can be more damaging to your health than any physical injury.
A carefully designed exercise plan helps you release feel-good brain chemicals which ease mental health and emotional problems and boosts your confidence. They help nerve cell growth in the hippocampus (the brain region that regulates mood) and improve nerve cell connections, which help relieve depression.
When a therapist doesn't work for you, a one-to-one exercise plan is the ideal next step in dealing with any emotional injuries.
Multiple sclerosis
More than 100,000 people in the UK have multiple sclerosis and each year about 5000 new cases are diagnosed.
With carefully designed exercise plan, you will experience improved mobility, decreased fatigue, increased aerobic capacity and improve muscular strength. This happens because exercise has an impact on the pathology of multiple sclerosis thus slowing down the disease process, helping you to live a normal life.
Arthritis
Arthritis is defined as an inflammation of one or more joints. About 10 million people in the UK have arthritis. Estimates show that without exercise, nutrition and other customised lifestyle changes the number of people with arthritis will increase by 50% by 2030.
Avoiding physical activity (which hurts) seems sensible, but this will only worsen your condition regardless of the type of arthritis you have.
With a clearance from your medical provider, I can create a customised exercise plan for your condition.
If you have osteoarthritis, my exercise programme can help alleviate the pain and improve the general level of functioning, balance, muscle strength, and endurance.
In clients with rheumatoid arthritis, a customized exercise plan can induce anti-inflammatory effects whilst improving your fitness and strength.
To discover how one-to-one personal training can transform your body whilst saving your joints
Polycystic ovarian syndrome
Polycystic ovarian syndrome (PCOS) occurs when a woman's ovaries or adrenal glands produce excessive amounts of male hormones.
As a result, ovaries develop follicles or small collections of fluid and fail to regularly release eggs.
PCOS affects one in five UK women.
Regular physical activity through a customised personal training workout and a bespoke nutrition plan helps clients with PCOS by preventing hypertension, hyperlipidemia, insulin resistance, and weight gain, all of which are associated with the syndrome.
Doing the right exercise will improve ovulation. Find out how one-to-one personal training can help you.
Cancer
Did you know? Customised physical activity has the potential to prevent cancer. In fact, statistics show that staying active might prevent around 3400 cases each year.
Not only that, exercise is beneficial for cancer patients too.
With doctor's clearance, I will create the best exercise plan for your condition in order to decrease fatigue, reduce muscle wastage due to inactivity, reduce nausea and vomiting, lower the risk of anxiety and depression, help you manage weight and improve the overall quality of life.
Here's how I helped a London client in the run up to treatment:
"I was diagnosed with prostate cancer and the oncologist doctor recommended to exercise under supervision so I could prepare my body and mind.  My stamina and my endurance have improved, my recovery period has shortened and my flexibility has improved. I'm on my 10th session training with Jazz and I would say that I'm 30 to 40% stronger already."
If you've been diagnosed with, or are recovering from cancer my 12 week customised programme is the perfect way to get your body back under control.
Remember, I can only provide the 12 week Health Transformation course to those living in central London ( that includes the areas of Chelsea, Bank, Baker Street, Mayfair, Bond Street, Canary Wharf, Covent Garden, Hampstead, Harley street, Holborn, Kensington, London Bridge, Marylebone, Victoria and Westminster – and suffer from any of the above conditions).
If you need help with a short term recovery or long term health strategy for your condition, the 12 Week Health Transformation is the programme for you.